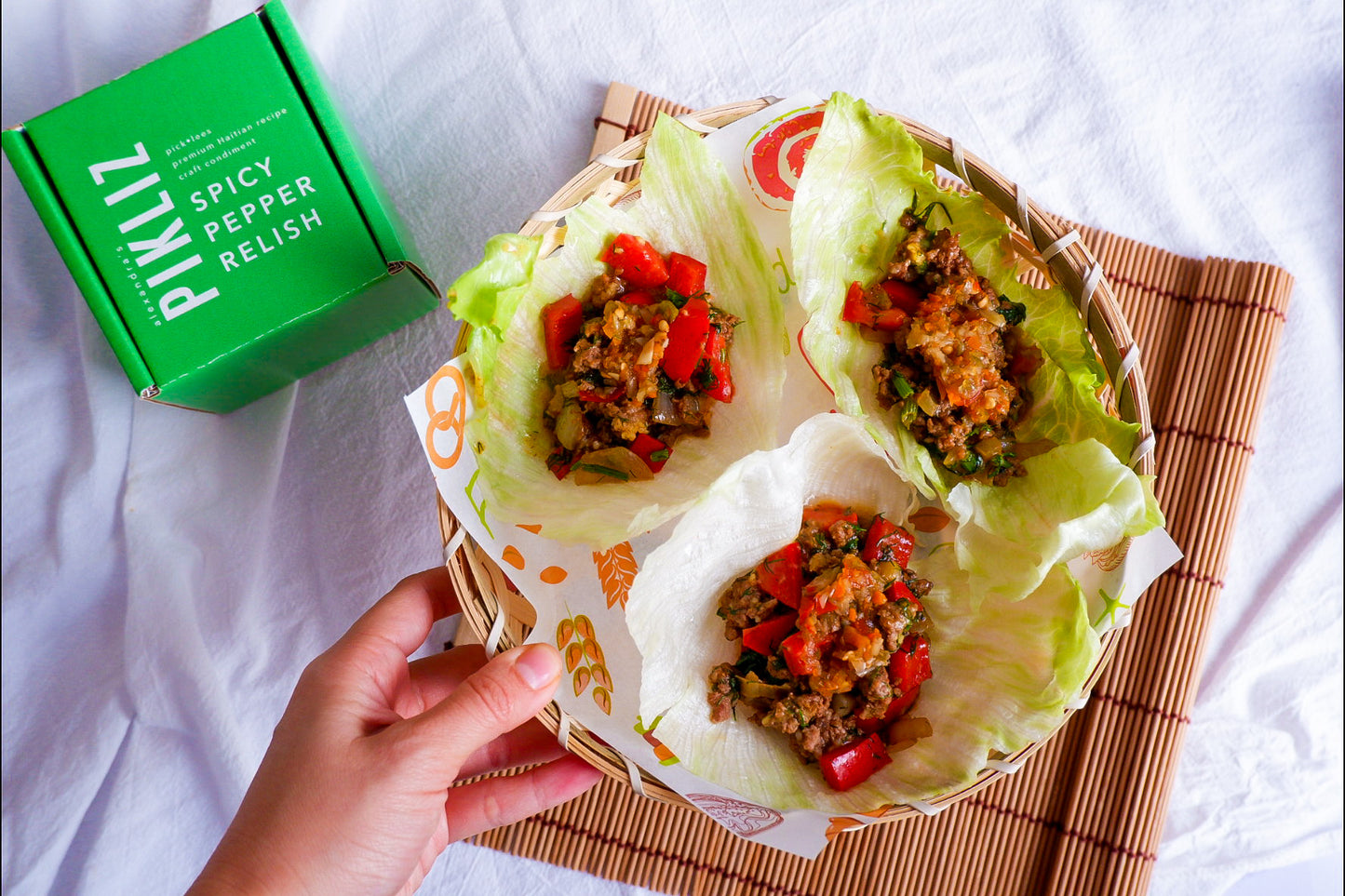 Are you looking for a healthy and easy meal idea that can satisfy your taste buds? Look no further than this recipe for Easy Beef Lettuce Tacos with Alexandra's Pikliz! With simple ingredients such as ground beef or ground turkey, fresh vegetables, herbs, this recipe is not only delicious but also packed with nutrients. The use of iceberg lettuce leaves as the taco shell makes it a low-carb and gluten-free option, perfect for those who are health-conscious. Plus, with the addition of Alexandra's Pikliz, a Haitian-inspired spicy pickled vegetable condiment, this recipe takes the flavor profile to the next level. In this blog post, we will guide you through the simple steps to prepare this delicious meal, provide tips and tricks to enhance the taste, and offer suggestions on serving and pairing it with other dishes. Get ready to indulge in a flavorful and nutritious meal that will leave you feeling satisfied and energized!
Ingredients:
3 Tbsp olive oil
1 yellow onion
1 bell pepper
3–5 sprigs of fresh dill
1 lb. 95% lean ground beef
2 cloves of garlic
1 tablespoon chili powder
1 teaspoon ground cumin
1-2 tablespoons of chicken broth
Salt and pepper to taste
1 iceberg lettuce
4 tbsp Alexandra's Pikliz
The ingredients for this recipe are simple and easy to find in most grocery stores. Olive oil is used for cooking the vegetables and beef, while onion, bell pepper, garlic, and fresh dill provide flavor and nutrients to the dish. The 95% lean ground beef is a great source of protein, and you can always substitute ground beef for ground turkey while chili powder and ground cumin give the recipe a kick of spice and warmth. Chicken broth is added for moisture and flavor, and salt and pepper are used to taste.
The use of iceberg lettuce as the taco shell makes the recipe low in carbs and gluten-free, making it a healthy option for those on a diet. Alexandra's Pikliz, a spicy Haitian condiment made from pickled vegetables, adds a unique and flavorful twist to the dish.
When shopping for the ingredients, choose fresh vegetables and lean ground beef to ensure the best quality and taste. If you can't find fresh dill or flat leaf parsley, you can substitute dried dill. For vegetarians or those who don't eat beef, you can substitute the ground beef with ground turkey or chicken. Alexandra's Pikliz can be found in specialty stores or online.
To store the ingredients, keep the vegetables in the refrigerator in separate containers. The ground beef can be stored in the freezer for up to 3 months. The Alexandra's Pikliz can be stored for two years, a nice long extended shelf life!
Instructions:
Begin by dicing the onion and bell pepper into small pieces, mincing the garlic, and chopping the fresh dill.
Heat 3 tablespoons of olive oil in a non-stick skillet over medium-high heat.
Add the diced onion and sauté for 3–4 minutes, until translucent.
Add the 1 pound of lean ground beef, minced garlic, and chopped fresh dill. Cook for 5–6 minutes, stirring occasionally, until the beef is fully cooked through.
Add in the diced bell pepper, 1 tablespoon of chili powder, and 1 teaspoon of ground cumin. Add salt and pepper to taste, and stir to combine. If the mixture seems dry, add 1-2 tablespoons of chicken broth.
Cook for an additional 1–2 minutes until the bell pepper is slightly softened.
To assemble the tacos, remove the core from the iceberg lettuce and separate the leaves. Spoon the beef mixture onto the lettuce leaves.
Top each taco with 1 tablespoon of Alexandra's Pikliz.
Serve immediately and enjoy!
Tips and tricks:
Use a nonstick skillet to prevent the beef from sticking to the pan.
Be sure to drain any excess grease from the ground beef after cooking.
If you prefer a spicier flavor, increase the amount of chili powder or add hot sauce.
If you prefer a milder flavor, decrease the amount of chili powder or omit it altogether.
For added crunch and flavor, top the tacos with diced tomatoes, shredded cheese, or sliced jalapeños.
Modifications:
For a vegetarian version, substitute the ground beef with crumbled tofu or tempeh.
For a dairy-free option, omit the cheese and use vegan-friendly Alexandra's Pikliz.
To make the tacos heartier, add a side of black beans or Spanish rice.
Serving Suggestions:
Beef lettuce tacos are a fun and healthy way to enjoy taco night with family and friends. Here are some serving suggestions to take your meal to the next level:
Pair the tacos with a side of Spanish rice, black beans, or corn on the cob.
A refreshing fruit salad or a simple green salad dressed with vinaigrette makes for a great side dish.
For beverages, try serving with ice-cold Mexican beer or a pitcher of margaritas (alcoholic or non-alcoholic).
If you're looking for additional toppings, try adding diced tomatoes, sliced avocado, cilantro, or shredded cheese.
For added crunch and texture, top the tacos with some crumbled tortilla chips or sliced radishes.
Another great idea is to add a dollop of sour cream or Greek yogurt on top of the tacos for a creamier flavor.
If you want to keep it low-carb, you can swap the lettuce leaves with a cabbage leaf or a collard green leaf.
For a more substantial meal, consider serving the tacos with a side of roasted sweet potatoes or grilled vegetables.
Beef lettuce tacos are a versatile dish that can be customized to suit your taste preferences. Get creative with your toppings and sides to create a meal that's both satisfying and delicious.
Conclusion:
In summary, this recipe for easy beef lettuce tacos with Alexandra's Pikliz is a delicious and healthy meal that's perfect for a quick weeknight dinner. The combination of flavorful spices, lean protein, and fresh vegetables makes this dish a nutritious and satisfying option for any taco lover.
One of the benefits of this recipe is that it's easy to customize to your taste. You can adjust the level of spice or add your favorite toppings to make it your own. Plus, using lettuce leaves as a taco shell is a fun and healthy alternative to traditional tortillas.
I encourage you to give this recipe a try and share your feedback with us. Whether you're a seasoned home cook or a beginner in the kitchen, this recipe is easy to follow and sure to impress.
If you're looking for additional healthy meal ideas or want to learn more about Alexandra's Pikliz, be sure to check out the resources below:
Thank you for reading, and happy cooking!