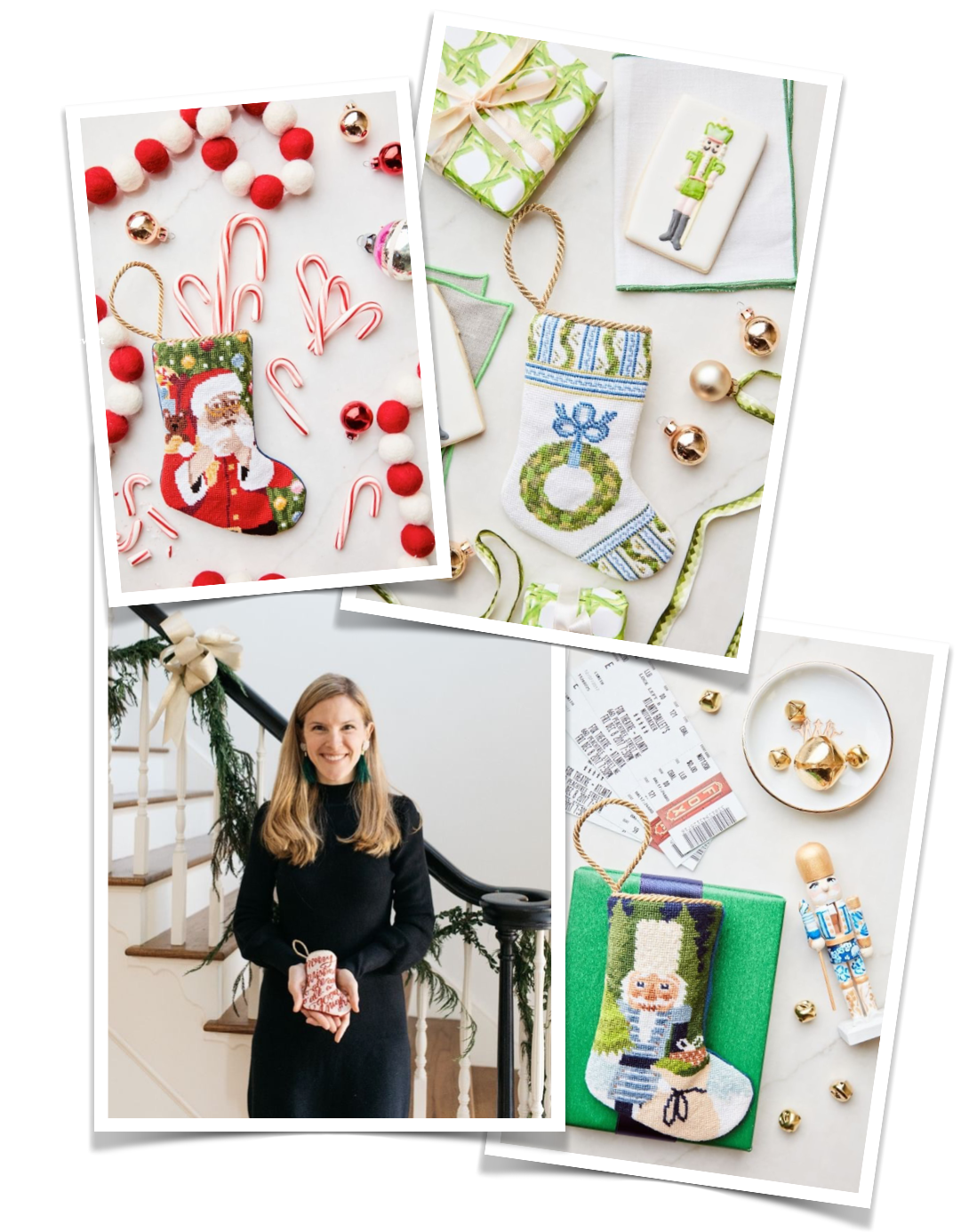 Kate Stewart, Founder of Bauble Stockings
Bauble Stockings pictured above left to right; Jolly Old St. Nick, Holiday Trimmings by Dogwood Hill™️ Designed by Holly Hollon, and Winter Solstice Nutcracker
What is a bauble stocking you might ask? According to Kate Stewart, Founder of Bauble Stockings, "a needlepoint bauble stocking contains, or has a clue to, the final present of Christmas, a grand finale for the holiday." A tradition Kate's mother maintained throughout Kate's upbringing. What intrigued me and stood out the most, when I happen to find Bauble Stockings on Instagram (@babublestockings), was their connection to Haiti. "Hand-stitched needlepoint made for fair trade in Haiti." This stopped me in my tracks! 

After reaching out to Kate, I recently had the pleasure of speaking with her. Besides Kate's warm and bright voice was an obvious attitude of gratitude and thankfulness. What came to mind as I listened to Kate beam with pride of her team, a name she referred to often, was that Kate is humbled and passionate about her company. She's passionate about its commitment to employing those in need in Haiti, specifically,  a community of moms, mostly single moms, and known as the "stitchers", the needlework artisans - the ladies who do the actual needlepoint work. As well as feeding and educating their children. Also, encouraging Bauble Stockings' loyal customers and their families to incorporate the tradition of sharing and gifting bauble stockings. Maybe your tradition will utilize Bauble Stockings for a Christmas Eve gift. Or for one of your Hanukkah gifts. That said, I was truly intrigued. This beautiful, thoughtful, and smart woman not only had a wonderful product and message with her company but also had a deep desire to be connected to the people of Haiti and help. 
Kate explained she created her company and needed manufacturing. After an arduous search, Kate met her business partner, David, with Good Threads Needlepoint, and started her company in 2018. As stated on the Good Threads website, "Good Threads manufactures and sells the finest needlepoint products available. All of our products are made in Haiti, where our founder [David] lives and runs our sister nonprofit the Joan Rose Foundation." Kate describes David as a natural-born leader. "He knows everything about each team member and their families!", says Kate enthusiastically. Via Good Threads, a Fair Trade organization, Kate knows her stitchers are paid fair wages. Plus, Bauble Stockings provide educational scholarships and feeding centers for hundreds of children. Bauble Stockings also has a Guest Artist Program where 10% of the profits are donated to the organization of choice of the artist. 
There have been an unexpected bonuses to running her company. Kate is truly touched by the abundance of gratitude pouring out of the stitchers. She was blown away by their generosity after the August 14th earthquake in Les Cayes. The women were exceedingly generous when donating funds to help others affected by the earthquake. 
Bauble Stockings has enjoyed explosive growth and success in four short years of operation. Bauble Stockings can be found online and in 275 stores including Saks Fifth Avenue. Plus, Bauble Stockings has captured the attention of celebrities like Kathy Hilton, as noted on a recent Instagram post. Kate shared with me that she feels like she gets lucky often. Business partner, David, reminded her, "Of course we get lucky! We have God on our side!" Amen to that!