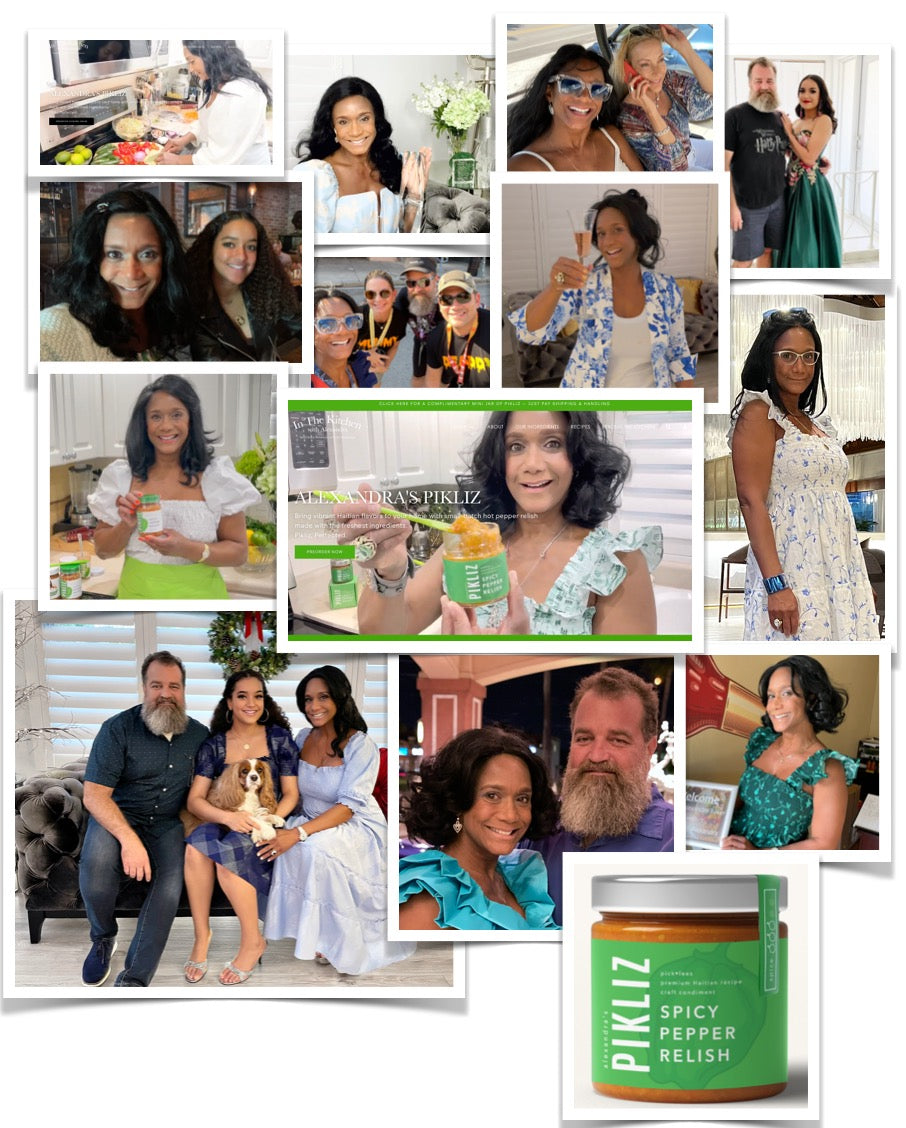 What a YEAR!
In 2021, We Introduced
ALEXANDRA'S PIKLIZ,
Spicy Pepper Relish, Created Our Website - IN THE KITCHEN WITH ALEXANDRA.COM, Launched
and Successfully Funded
the KICKSTARTER Campaign, and WERE IN AWE as we HELD OUR JARS in Hand for the First Time. One Can Only Imagine…
What a YEAR to COME in 2022!
As I think about 2021, and desiring to launch Alexandra's Pikliz, I think it's been a whirlwind! We are truly humbled by the support and encouragement of family, friends, and new customers. Thank you!

I'm never more delighted than when someone says to me, "I put pikliz on everything!" Or, "It's not hot, it's flavorful!" Can you see the smile on my face and feel the warmth in my heart? I would also like to thank our incredible team - Lucy and her recipes, Sam with our website development, Sada our graphic artist (I receive compliments on our packaging daily. It was Sada!), Mike our co-packer, and Jeff our label manufacturer. There are many more who help, but these are core members of the team.

During the year, we continued to broadcast LIVE shows via Skype for HSN. I even won an award for On-Air Guest Excellence. It was completely unexpected. We watch our 17-year-old daughter, Sofia, attend her first prom, go through a college tour, and earn her driver's license. There was time to spend with good friends, and connect with old friends. By the end of the year, Troy and I were happy to celebrate our 19th wedding anniversary - so sweet!

The anticipation of 2022 is in the air. Of course, we have several personal and professional goals; the growth of website sales, the availability of Alexandra's Pikliz on various online food marketplaces, and pop-up locations. The are new products in development and we are eager to see how you are incorporating pikliz into your diet. Please share with reviews on In the Kitchen with Alexandra!

I want to encourage you to go after your dreams. Dream Big, get your vision boards up, pray, and never ever give up!


xoxo, Alexandra 
In 2022
What am I Wearing?
Hill House Home Nap Dresses
What am I using for Beauty?
Nu Skin's AgeLoc LumiSpa, Laneige Moisture Cream and
Sleeping Masks, Chanel Beaute' and Pat McGrath
What am I Reading?
The 5 AM Club by Robin Sharma, Diana Gabaldon's Outlander series,
All of Jane Austen's novels including a little known book she wrote called, Lady Susan.