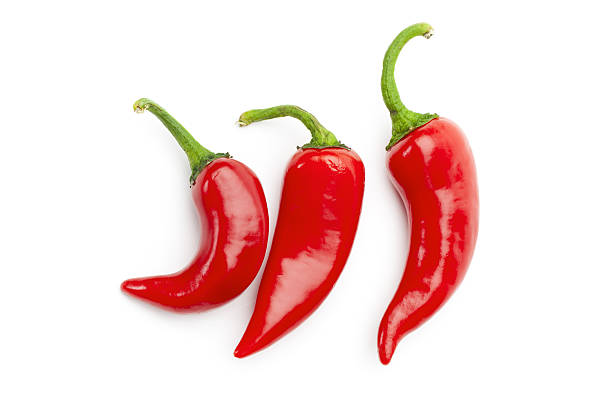 Learn more about the powerful health benefits of hot chile peppers. Not my words,

 

but the scientific studies cited in the articles below. Because of Capsaicin, the active ingredient or compound found in chili peppers,

 

Capsaicin helps to lower inflammation, improve metabolism and have a positive effect on gut health and weight.
Alexandra's Pikliz is loaded with more hot chile peppers that its traditional version, making Alexandra's Pikliz an excellent source of Capsaicin.
Some of the chili peppers* found in Alexandra's Pikliz:

Anaheim pepper is a mild, medium-sized chili pepper that grows to 6-10 inches in length.
Cubanelle Pepper is considered a sweet pepper, though it can have a touch of heat. It is a light green pepper used in general cooking
Italian Long Hot Peppers are mild, sweet peppers popular in Italian cooking, though they have become popular in the United States for their versatility.
Fresno pepper looks and tastes much like a jalapeno, but slightly hotter. Fresno peppers mature from green to red as they grow, and increase in hotness.
Hungarian Wax Pepper is easily confused with the similar-looking banana pepper, but it is much hotter. It is also known as the Hungarian Hot Wax Pepper.
Jalapeno pepper is a fruit of the Capsicum pod type. It is a medium sized hot pepper when compared to other chili peppers measuring an average of 2-3.5 inches in length but growing up to 6 inches long or longer.
Serrano pepper is smaller than a typical jalapeno pepper, similar in color. They generally grow between 1 – 4 inches long
Habanero pepper is named after the Cuban city of La Habana, has great fruity flavor,  hints of citrus, flowery aroma
Scotch Bonnet pepper is a cultivar of the habanero and is among the hottest peppers anywhere. If you've ever tried a habanero pepper, you know it carries some serious heat. The Scotch Bonnet is equally hot
Read more here https://www.chilipeppermadness.com/chili-pepper-types/medium-hot-chili-peppers/
#1 Gut Health/ Anti-inflammatory - when capsaicin enters the digestive tract and attaches to a receptor, it creates a chemical called anandamide shown to lead to less inflammation in the gut
Read more here https://www.pennmedicine.org/updates/blogs/health-and-wellness/2019/april/spicy-foods
#2 Heart Health - "Capsaicin has

 

anti-inflammatory properties. Why is that important for heart health? Dr. Fairweather says inflammation drives plaque buildup in blood vessel walls. And since capsaicin reduces inflammation, it may help prevent that process from happening. Capsaicin also may help boost your immune system, further reducing risk.
"There really could be important benefits that you could have from eating hot chili peppers, especially in their ability to reduce some of these immune cell responses that are driving atherosclerosis and heart attacks," says Dr. Fairweather.
Read more https://newsnetwork.mayoclinic.org/discussion/mayoclinicminutecapsaicinsconnectiontohearthealth/
#3 Suppresses Appetite & Weight Loss burning more calories both at rest and during exercise

 

"Capsaicin, a major active compound from chili peppers, has been clearly demonstrated for its numerous beneficial roles in health. In this review, we will focus on the less highlighted aspect, in particular how dietary chili peppers and capsaicin consumption reduce body weight and its potential mechanisms of its anti-obesity effects."
Read more of the review https://www.ncbi.nlm.nih.gov/pmc/articles/PMC5426284/
#4 Antioxidants, Anti Cancers - because of the rich red and intense orange colors of many peppers, the contain carotenoids, known to protect your cells from may cancers.
*Depending on the season and availability, I may switch one pepper for a similar pepper, hence the longer list of peppers than my staple five peppers
*Disclaimer - not a medical statement - reiterating the well-published clinical studies that have evaluated the positive impact of capsaicin ingestion