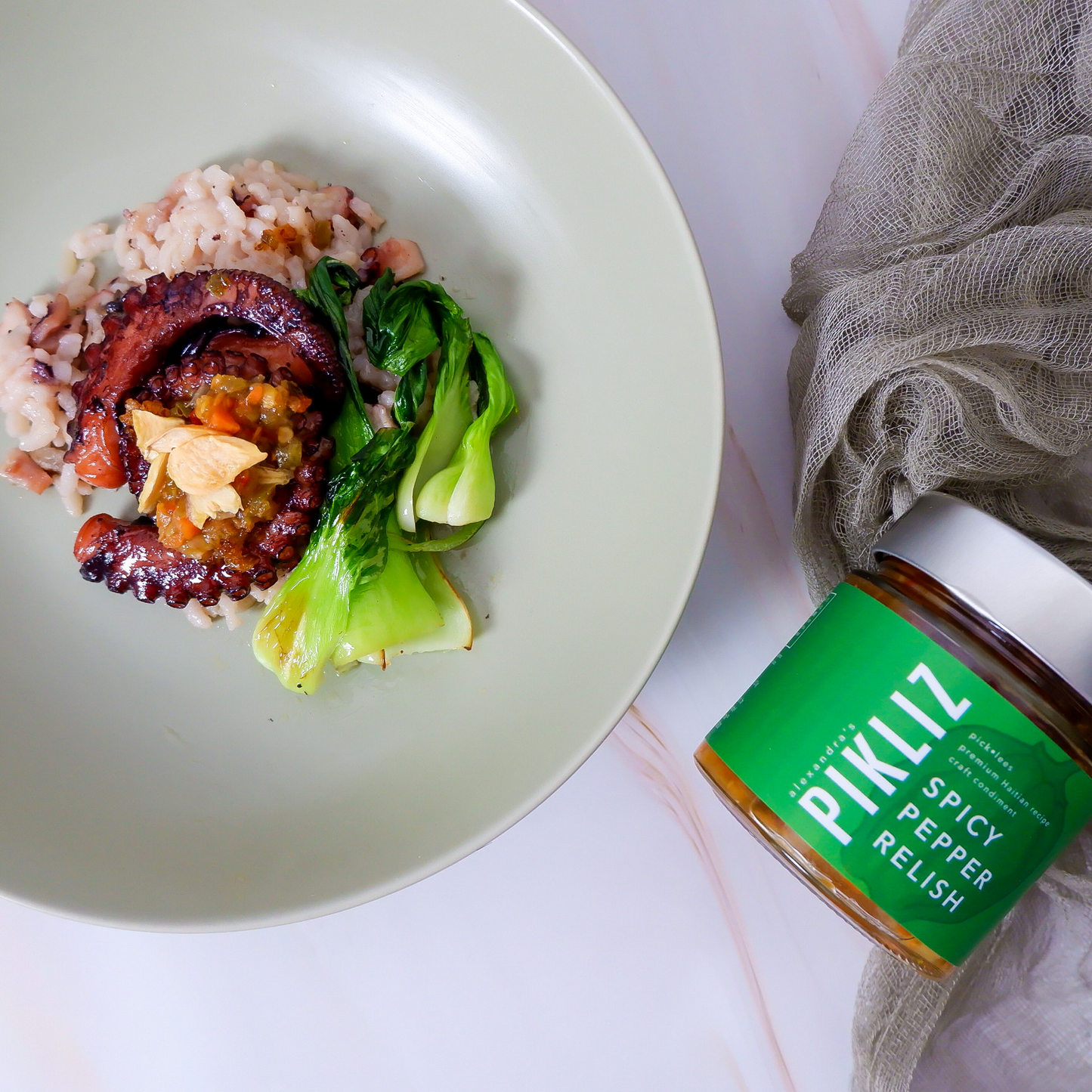 Braised Octopus with Alexandra's Pikliz
Ingredient
750 g Octopus
2 bok choy
1 cinnamon stick
10 black peppercorns
1 onion
100 ml soy sauce
6 cloves of garlic
4 tbsp of Alexandra's Pikliz
1/2 cup of Italian Rice (or you can use risotto)
1 tbsp butter
Few dry garlic flakes (optional)
Steps (creates 4 dish)
Clean the octopus.
In a large bowl, bring 1 L of water to boil.
Season with salt and pepper, cinnamon stick, black peppercorn, ½ onion, ½ of the garlic, soy sauce; simmer for 5 min.
Transfer the soup base to a high-pressure cooker, add in the octopus and cook for 30 minutes.
Take ½ of the cooked octopus and dice it.
In a heated pot, lightly oil, then place in the remaining onion (diced) and garlic, saute until aromatic
Add in diced octopus and rice, and ¾ cup of water (or ½ cup if you like a firmer texture).
Simmer on low heat with cover on until rice fully absorbs the water.
While rice is cooking, wash the bok choy, and cut each in half.
On a nonstick pan, use 1 tbsp of butter, grill bok choy and remaining octopus until light char.
Once everything is prepared, assemble the dish. Rice on the bottom with Bak Choy, then the charred octopus.
For each portion, add 1 tbsp of Alexandra's Pikliz sauce on top, garnish the dry garlic flakes.
Picture and Recipe credit: Smileey.Lucy